Read Our 2014 World Cup Guide For Mobile & Tablet Devices
Welcome to our special world cup 2014 guide. Here we give you the low-down on everything you'll want to know about the 2014 world cup. We have all the locations, all the teams, the 2014 world cup schedule as well as some of the best 2014 world cup tips. We aim to give you an overview to all things related to the 2014 world cup and we will look at each of the squads giving you our top tips as to why they may be destined for world cup glory!
On this page you will find a brief 2014 world cup as to the teams and group stages. You will also find links to our special 2014 world cup tips and lowdown on the actual squads.
The 2014 World Cup Teams
There are 32 teams taking part in the 2014 world cup are
1. Algeria
2. Argentina
3. Australia
4. Belgium
5. Bosnia-Herzegovina
6. Brazil
7. Cameroon
8. Chile
9. Colombia
10. Costa Rica
11. Croatia
12. Ecuador
13. England
14. France
15. Germany
16. Ghana
17. Greece
18. Honduras
19. Iran
20. Italy
21. Ivory Coast
22. Japan
23. Mexico
24. Netherlands
25. Nigeria
26. Portugal
27. Russia
28. South Korea
29. Spain
30. Switzerland
31. USA
32. Uruguay
The 32 teams are then split into 8 different groups which are
Group A
Brazil, Croatia, Mexico, Cameroon
---
Group B
Spain, Netherlands, Chile, Australia
---
Group C
Colombia, Greece, Ivory Coast, Japan
---
Group D
Uruguay, Costa Rica, England, Italy
---
Group E
Switzerland, Ecuador, France, Honduras
---
Group F
Argentina, Bosnia-Hercegovina, Iran, Nigeria
---
Group G
Germany, Portugal, Ghana, USA
---
Group H
Belgium, Algeria, Russia, South Korea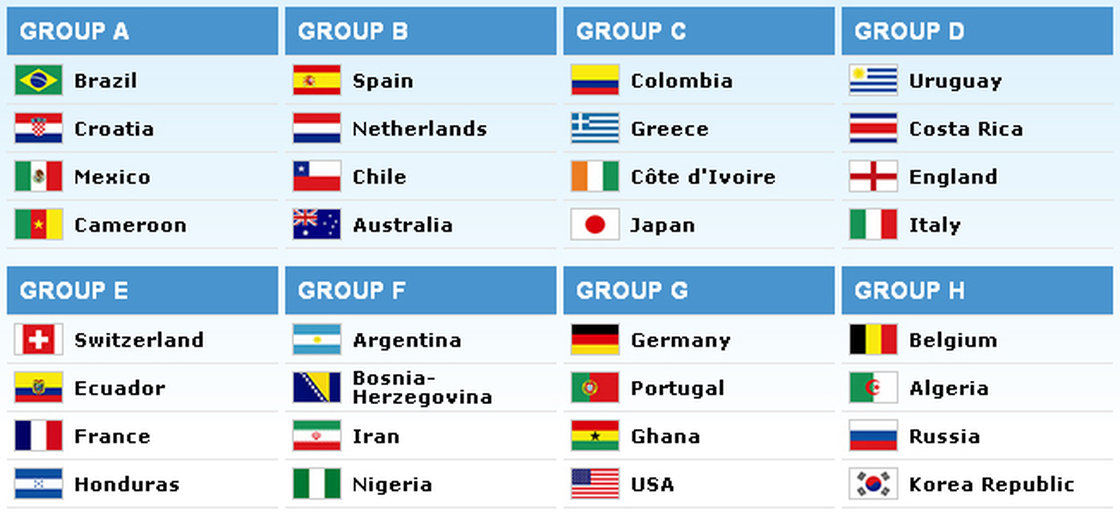 A schedule of all the 2014 world cup groups can be found below, which includes the venue and UK kick off times. You will also see which channel is showing the games. Alternatively see the FIFA Official Schedule guide..
Group A
12 June 2014
Brazil v Croatia, Arena de Sao Paulo, Sao Paulo, 21:00 (ITV)
13 June 2014
Mexico v Cameroon, Arena das Dunas, Natal, 17:00 (ITV)
17 June 2014
Brazil v Mexico, Estadio Castelao, Fortaleza, 20:00 (BBC)
18 June 2014
Cameroon v Croatia, Arena Amazonia, Manaus, 23:00 (ITV)
23 June 2014
Cameroon v Brazil, Estadio Nacional, Brasilia, 21:00 (ITV)
23 June 2014
Croatia v Mexico, Arena Pernambuco, Recife, 21:00 (ITV)
---
Group B
13 June 2014
Spain v Netherlands, Arena Fonte Nova, Salvador, 20:00 (BBC)
13 June 2014
Chile v Australia, Arena Pantanal, Cuiaba, 23:00 (ITV)
18 June 2014
Spain v Chile, Estadio do Maracana, Rio de Janeiro, 20:00 (BBC)
18 June 2014
Australia v Netherlands, Estadio Beira-Rio, Porto Alegre, 17:00 (ITV)
23 June 2014
Australia v Spain, Arena da Baixada, Curitiba, 17:00 (ITV)
23 June 2014
Netherlands v Chile, Arena de Sao Paulo, Sao Paulo, 17:00 (ITV)
---
Group C
14 June 2014
Colombia v Greece, Estadio Mineirao, Belo Horizonte, 17:00 (BBC)
15 June 2014
Ivory Coast v Japan, Arena Pernambuco, Recife, 02:00 (ITV)
19 June 2014
Colombia v Ivory Coast, Estadio Nacional, Brasilia, 17:00 (BBC)
19 June 2014
Japan v Greece, Arena das Dunas, Natal, 23:00 (BBC)
24 June 2014
Japan v Colombia, Arena Pantanal, Cuiaba, 21:00 (BBC)
24 June 2014
Greece v Ivory Coast, Estadio Castelao, Fortaleza, 21:00 (BBC)
---
Group D
14 June 2014
Uruguay v Costa Rica, Estadio Castelao, Fortaleza, 20:00 (ITV)
14 June 2014
England v Italy, Arena Amazonia, Manaus, 23:00 (BBC)
19 June 2014
Uruguay v England , Arena de Sao Paulo, Sao Paulo, 20:00 (ITV)
20 June 2014
Italy v Costa Rica, Arena Pernambuco, Recife, 17:00 (BBC)
24 June 2014
Italy v Uruguay, Arena das Dunas, Natal, 17:00 (ITV)
24 June 2014
Costa Rica v England, Estadio Mineirao, Belo Horizonte, 17:00 (ITV)
---
Group E
15 June 2014
Switzerland v Ecuador, Estadio Nacional, Brasilia, 17:00 (ITV)
15 June 2014
France v Honduras, Estadio Beira-Rio, Porto Alegre, 20:00 (BBC)
20 June 2014
Switzerland v France, Arena Fonte Nova, Salvador, 20:00 (ITV)
20 June 2014
Honduras v Ecuador, Arena da Baixada, Curitiba, 23:00 (ITV)
25 June 2014
Honduras v Switzerland, Arena Amazonia, Manaus, 21:00 (BBC)
25 June 2014
Ecuador v France, Estadio do Maracana, Rio de Janeiro, 21:00 (BBC)
---
Group F
15 June 2014
Argentina v Bosnia-Hercegovina, Estadio do Maracana, Rio de Janeiro, 23:00 (BBC)
16 June 2014
Iran v Nigeria, Arena da Baixada, Curitiba, 20:00 (BBC)
21 June 2014
Argentina v Iran, Estadio Mineirao, Belo Horizonte, 17:00 (ITV)
21 June 2014
Nigeria v Bosnia-Hercegovina, Arena Pantanal, Cuiaba, 23:00 (BBC)
25 June 2014
Nigeria v Argentina, Estadio Beira-Rio, Porto Alegre, 17:00 (ITV)
25 June 2014
Bosnia-Hercegovina v Iran, Arena Fonte Nova, Salvador, 17:00 (ITV)
---
Group G
16 June 2014
Germany v Portugal, Arena Fonte Nova, Salvador, 17:00 (ITV)
16 June 2014
Ghana v United States, Arena das Dunas, Natal, 23:00 (BBC)
21 June 2014
Germany v Ghana, Estadio Castelao, Fortaleza, 20:00 (BBC)
22 June 2014
United States v Portugal, Arena Amazonia, Manaus, 23:00 (BBC)
26 June 2014
United States v Germany, Arena Pernambuco, Recife, 17:00 (BBC)
26 June 2014
Portugal v Ghana, Estadio Nacional, Brasilia, 17:00 (BBC)
---
Group H
17 June 2014
Belgium v Algeria, Estadio Mineirao, Belo Horizonte, 17:00 (ITV)
17 June 2014
Russia v South Korea, Arena Pantanal, Cuiaba, 23:00 (BBC)
22 June 2014
Belgium v Russia, Estadio do Maracana, Rio de Janeiro, 17:00 (BBC)
22 June 2014
South Korea v Algeria, Estadio Beira-Rio, Porto Alegre, 20:00 (ITV)
26 June 2014
South Korea v Belgium, Arena de Sao Paulo, Sao Paulo, 21:00 (ITV)
26 June 2014
Algeria v Russia, Arena da Baixada, Curitiba, 21:00 (ITV)
---
Second round
28 June 2014
Second-round 1:
Winner Group A v Runner-up Group B, Estadio Mineirao, Belo Horizonte, 17:00
28 June 2014
Second-round 2:
Winner Group C v Runner-up Group D, Estadio do Maracana, Rio de Janeiro, 21:00
29 June 2014
Second-round 3:
Winner Group B v Runner-up Group A, Estadio Castelao, Fortaleza, 17:00
29 June 2014
Second-round 4:
Winner Group D v Runner-up Group C, Arena Pernambuco, Recife, 21:00
30 June 2014
Second-round 5:
Winner Group E v Runner-up Group F, Estadio Nacional, Brasilia, 17:00
30 June 2014
Second-round 6:
Winner Group G v Runner-up Group H, Estadio Beira-Rio, Porto Alegre, 21:00
1 July 2014
Second-round 7:
Winner Group F v Runner-up Group E, Arena de Sao Paulo, Sao Paulo, 17:00
1 July 2014
Second-round 8:
Winner Group H v Runner-up Group G, Arena Fonte Nova, Salvador, 21:00
---
Quarter-finals
4 July 2014
Quarter-final 1:
Winner Second-round 5 v Winner Second-round 6, Estadio do Maracana, Rio de Janeiro, 17:00
4 July 2014
Quarter-final 2:
Winner Second-round 1 v Winner Second-round 2, Estadio Castelao, Fortaleza, 21:00
5 July 2014
Quarter-final 3:
Winner Second-round 7 v Winner Second-round 8, Estadio Nacional, Brasilia, 17:00
5 July 2014
Quarter-final 4:
Winner Second-round 3 v Winner Second-round 4, Arena Fonte Nova, Salvador, 21:00
---
Semi-finals
8 July 2014
Semi-final 1:
Winner Quarter-final 1 v Winner Quarter-final 2, Estadio Mineirao, Belo Horizonte, 21:00
9 July 2014
Semi-final 2:
Winner Quarter-final 3 v Winner Quarter-final 4, Arena de Sao Paulo, Sao Paulo, 21:00
---
Third-place match
12 July 2014
Loser semi-final 1 v Loser semi-final 2, Estadio Nacional, Brasilia, 21:00
World Cup Final
13 July 2014
Winner semi-final 1 v Winner semi-final 2, Estadio do Maracana, Rio de Janeiro, 20:00